We don't get a great deal of inquiries about the restoration of stone fireplaces so its refreshing when one comes along, however the principles of cleaning and are the same so were always happy to take on the work.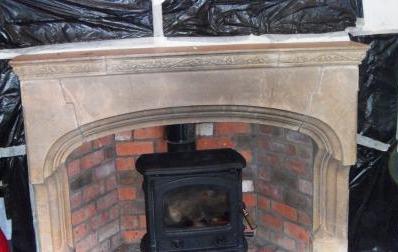 As you can see from the photograph above the Sandstone Fireplace was stained from soot and in need of a good clean. Soot staining is inevitable given the location however it can be reduced with wood burning stoves by fully opening the air vents shortly before opening the door, this reduces the amount of soot carrying gasses being released upwards and onto the stone when the opening.
Sandstone Fireplace Cleaning
Before cleaning the Fireplace we protected the surrounding walls using black plastic secured with decorator's masking tape. The next step was to mix up a 50/50 solution of Tile Doctor Pro-Clean and Ultra-Clean which was decanted into a spray bottle and sprayed directly onto the stone. Pro-Clean is a heavy duty cleaner and stripper whilst Nano-Clean contains abrasive particles so together they form a useful cleaning product. The spray mixes the cleaning solution with air which makes it lighter and more able to stick to vertical surfaces. The cleaning solution was left to dwell on the limestone for 15 minutes, then scrubbed and rinsed. The final step was to seal the fireplace with Tile Doctor Colour Grow which is a colour intensifying sealer that will provide stain protection going forward, I think you will agree the difference was amazing.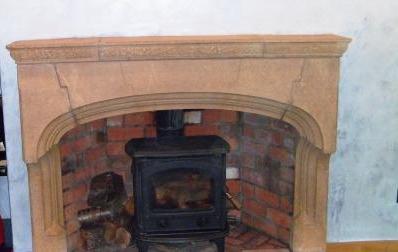 Source:
Restoration of Sandstone Fireplace in Market Harborough